Welcome to Aikikai Reykjavík, the only aikido club in Reykjavik, Iceland. If you are passing by, please join us in training. Schedule is below, guests are always welcome. We are affiliated with Aikido Kobayashi Dojo.
Restrictions on gathering due to the COVID-19 pandemic are no longer enforced. Training takes place in person in our Dojo where physical contact is optional but not prohibited. Cleaning takes place after each training session and disinfection is frequent.
Recordings of live streaming from training for individuals training at home, which took place during the height of the pandemic is available on our Facebook page video archive.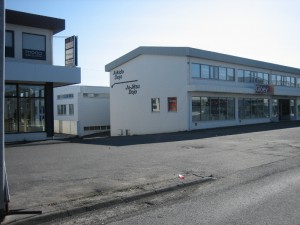 We are located centrally in Reykjavik in Ármúli 19 with entrance from the left side of the building. The entrance is down by the side and the door says Aikido and Ju-jitsu dojo
For information please email to aikido@aikido.is or call Marco (+354-699-7195), or just come by the Dojo at training times. Visit our facebook page for the most recent information.
View the location of Aikikai Reykjavík Dojo in a larger map.
Beginners are welcome on Mondays and Wednesdays for friendly training in basic technique.
Outside of beginners' classes you can try out our training classes twice but after that we ask that you register with the club.
Winter schedule (September – May) is as follows:
Monday
Kids 6-12 years
17:00 – 17:55
Basic technique
18:00 – 19:30
Wednesday
Kids 6-12 years
17:00 – 17:55
Basic technique
18:00 – 19:00
General training and weapons
19:00 – 20:00
Friday
General training
17:00 – 18:30
Saturday
General training
9:30 – 11:00
The basic technique class covers the aikido basics, as the name implies, while general training is a mixture of basic and advanced technique. These classes are for everyone 13 years or older, regardless of gender.
Summer schedule (June – August) is as follows:
All participants, regardless of skill level, are welcome to general training.
| | | |
| --- | --- | --- |
| Monday | General training | 18:00 – 19:30 |
| Wednesday | General training | 18:00 – 19:30 |
| Friday | General training | 17:00 – 18:30 |
No prior knowledge or physical condition is required to take part in aikido training. Use comfortable training clothes, a t-shirt and sweatpants is fine. The club has aikido uniforms for sale for those who are interested.
After the first kyu grading, beginners may join the advanced technique class where all club members train together irrespective of their level. Sometimes everyone trains the same technique and we focus on different issues and sometimes we work on different techniques according to our level.
If you have any questions, do not hesitate to contact the club via email aikido@aikido.is or call Marco on 699-7195.